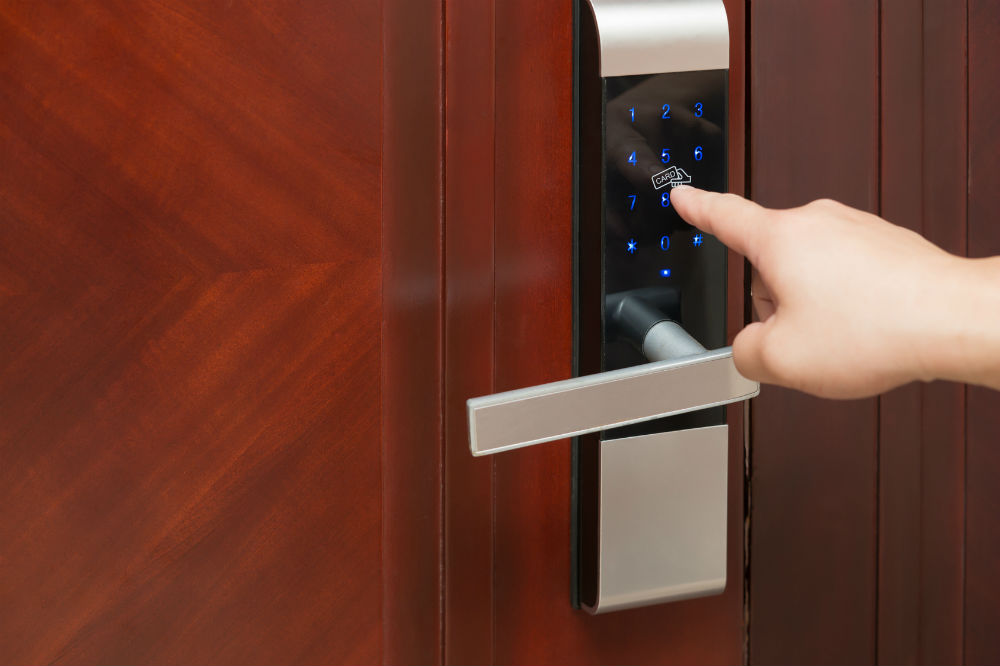 Why Are Electronic Locks Perfect for Your Place?
We are living in a day and age where everything we do, we do through technology. In an era where technology powers most of our assets and modes of communication, having solutions that can complement it becomes mandatory. With the rising incidents of burglary, and burglars finding more innovative ways of breaking and entering, Electronic locks (preferably smart locks) have become a new fad. Not only do they offer maximum functionality and security, but they also add style to your home aesthetics.
What makes electronic locks amazing is that these lock types are smart. They can also run on voice assistants, Wi-Fi, Bluetooth and come in a variety of shapes and sizes. But is that the only thing that makes them a class apart? Are you an eager homeowner wondering why you should get a modern lock or a smart electronic lock installed at your premises? Not sure what are the benefits of getting one or why is it essential for your home?
Here are all the reasons why you should invest in getting an electronic lock for your home.
You Won't Have to Search Around for Keys Again!
The whole idea of getting a smart lock installed at your premises is that you don't have to search around for keys. Smart locks offer you plenty of features such as voice assistance control, smart app controls, and so on to help you interact with the lock system. To control your smart lock, you don't need an external physical key. Instead, you can simply access it remotely when it's connected to Wi-Fi. All you need is a little WiFi bridge to bridge the connection. So next time, whether you're leaving for a fishing trip or going for a walk in the park, you don't have to worry about carrying the keys on you. Just unlock doors with your smartphone anytime.
Electronic Locks Leave an Everlasting First Impression
Gone are the days when you had a heavy padlock installed right on the front door. First, forward to today, we have advanced to a new age where everything we do is powered by technology. With smart homes becoming the new norm, it becomes increasingly important that your house also has a lock system that is stylish. And nothing compliments your smart home aesthetics more than one of those modern smart locks. Take Kwikset's Kevo for instance, it may appear like a normal deadbolt lock but when you approach the door, you will only be able to unlock it through a Kevo app. There are many retrofit locks such as the August Smart Lock, August Smart Lock Pro, Kwikset Convert, or Sesame Lock which more or less look the same as a dumb deadbolt but are actually smart locks.
Provide Remote Access to People with Electronic Locks
There are times when you have someone really important visiting you. For example, you have an aunt who is living abroad or your dad who was in a different state planned on giving you a visit while you were busy at the workplace. What to do if they were standing right outside your front door and you can't leave the workplace to attend to them? Well if you have an electronic smart lock installed at your home with a keypad or a deadbolt, you can share the lock passcode with them so they can enter. You can also ask them to download the relative app and use your credentials to log in and access your front door. No more hassles of making them wait for long hours until you come back home. All thanks to electronic smart locks.
Smart Locks Offers the Best Home Security
Yes, keeping a smart lock can weigh a toll on you if you're not quite a technology savvy. But living in the present era, I don't think anyone out there by any chance doesn't know how to handle smartphones and keypads. We are all quite familiar with their functionalities which makes electronic lock not just user-friendly but also highly secure. A smart lock can offer you the best security measures because you don't have to hide your physical keys under a mat or a flower pot placed adjacent to your door. This relativity minimizes the chance of an intruder to search up the keys and enter your premises when you're away. What's even more reliable about smart locks is that these lock types can also be integrated with alarm systems. If someone tries to break in through the lock, the alarms can go off informing the entire neighborhood that a burglary is in place. Before you know it, the authorities will be at the doorstep of your house.
So there you go, these are some of the benefits of why you should consider getting a smart lock installed at your premises. Are you searching for a reliable electronic lock brand to install at your homes or your workplace? Instalock locksmith can offer you fast and reliable residential locksmithing service. Just call us now and we will send someone over to install a smart lock on your doors as well.